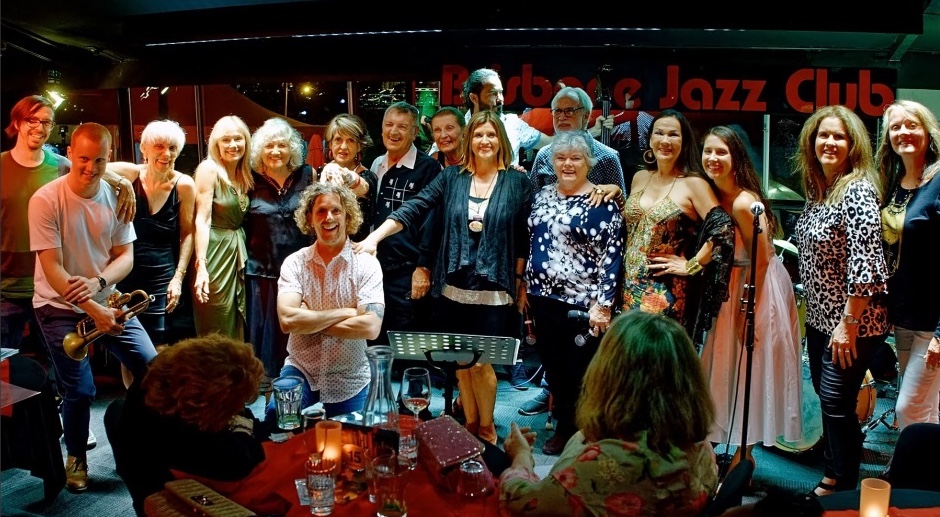 Gigs
Not only will you find the hottest performers on the music scene at our home of live jazz, you'll discover a whole lot of variety too, including blues and soul.
Festivals
There's nothing that sizzles like the festive atmosphere when jazz lovers from all over gather to celebrate the music they live for. We host annual festivals. Each one showcases a different slice of jazz: big bands, manouche jazz, youth bands and the jazz voice.
Programs
Want to become a jazz performer? Check out our regular community events for all ages. Whether you want to sing or jam, we have something for you.
Soak up jazz as you wine and dine in a legendary setting
You sip your drink.
Your foot taps to a swing beat.
The river reflects the city skyline and the Story Bridge is all lit up.
Piano fingers dance impossibly across the keyboard.
Rich vocal tones cast a jazzy enchantment in the intimate glow of the room.
Food and drinks flow to tables, and heads bob to twelve-bar blues.
The saxophonist belts out a brassy improv as drums and bass jam along.
You join the audience in a spontaneous burst of applause.
It's another unforgettable night at Brisbane Jazz Club.
We're COVID-Safe
To keep you safe, we have strict COVID Safe protocols and follow government advice closely.
In the case of lockdown cancellations, you'll find updates here.
We'll always try to reschedule affected shows. If that's not possible or the revised dates don't suit you, a full refund will be given.
"It's a jewel."
I've listened to jazz all 'round the world—in the open air, at churches, concert halls, in dives, in honky-tonks, in holes-in-the-wall and in so-called jazz clubs—but this is the best goddamn little jazz club I've ever met. It's a jewel.
Gary Annakin | Patron (July 2021)
3 little-known secrets of Brisbane's home of live jazz
The right address—for those who know
Enjoy iconic views from our private river deck. Without the crowds. Get up close to the performers, and chat with them offstage—they won't be far. Plus, you won't find another live jazz venue on the Brisbane River where the table is yours for the entire evening, with restaurant food and a licensed bar available. And did we mention we're in a historic boathouse?
World-class jazz on your doorstep
Top local and international artists who perform at our club say there's nothing like it. In fact, we've attracted so much overseas interest that on International Jazz Day we broadcast live to 52 countries.
Something for every jazz lover
As champions of jazz, we love to offer up-and-coming talent our professional venue in which to perform and gain confidence. Our team of dedicated staff and volunteers work tirelessly for the love of jazz. Because of them, we can open the world of jazz to our community while keeping prices affordable.
"…a sound that continues to excite generations of musicians…"
Jacki and I really look forward to the Brisbane Big Band Festival. It is a smorgasbord of great music allowing us to perform with Brisbane's finest musicians. To me, there is nothing like the sound of a full big band in full flight – a sound that continues to excite generations of musicians young and not so young.
John Morrison | Big band guru and drummer
"…so happy I could burst!"
Being a part of the Jazz Singers Jam Nights makes me so happy I could burst! There's nothing else like it in South East Queensland.
Kylie Agnew | Jazz singer/ Maths teacher
"…jazz is alive and well in Brisbane town…"
The excellent river location, the sound and ambience, wonderful and talented musicians and the obvious dedicated work of Ingrid James and the BJC team provide a mix which certainly demonstrates that jazz is alive and well in Brisbane town. As a newcomer to the event, I see it as a unique and wonderful long standing initiative, which I am sure enhances and strengthens the current talent and scene but equally will ensure the future viability of jazz both locally and further afield.
Paul Ingle | Trombonist, Melbourne
"The casual, supportive atmosphere is so special…"
The Jazz Singers' Jam Night at the Brisbane Jazz Club—a place where one can feel surrounded by an extended family, all united by a common love for JAZZ! The casual, supportive atmosphere is so special and as vocalists we can feel like divas for a few moments. May this never ever stop!
Victoria Luppi | Jazz singer/ teacher
101FM
Australian Jazz Museum
MBS Light
Extreme Marquees
Veteran Card